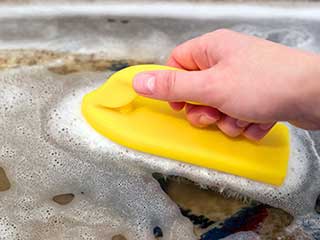 Who's afraid of carpet water damage when you have the means and know the ways for effective restoration? It will, of course, depend on your preparedness to react immediately after an accident or water leakage, the type of carpet and the products you will use for water damage restoration. In a different case, you will be dealing with a serious situation that will affect both your carpets and health. Consider the main effects, if the problem is not solved at once.
Mold will be formed in the soaked area and it will probably expand.
Odor removal will be hard since the smell of still water and mildew cannot be removed easily.
If you have wall to wall carpets glued on the floor, chances are that you will need to replace them.
If mold is expanded, it might contaminate the entire house.
The carpets will be seriously damaged and mold damage cleanup and repair may not have excellent results.
You will have serious health problems related to breathing difficulties, nausea, fatigue or asthma attacks.
Protect Carpets From Water Damage
The level of the problem will vary depending on the quality of water. If the water is clean, the problem would be smaller but if the water is black, which would mean it will be full of germs and bacteria, the problem would be huge. In either case, you must engage in water extraction right away.
You need to use any means, from hair dryers to special machinery, to dry the carpets.
If you are dealing with soaked portable rugs, you are lucky, so to say. You can put them in the balcony or yard and leave them to dry in the open space.
If the Waters Are Dirty, Carpet Cleaning Must Precede the Drying
When the rugs are clean and dry, you can apply vinegar, which is ideal for the removal of bad odors. Accidents cannot really be predicted but if you take the right precaution measures, you may avoid serious problems. Hence, it would be wise to avoid placing rugs close to water pipes, bathrooms, kitchens, basements and near the radiators. You must also refrain from storing your lovely oriental rugs in rooms with high moisture and make sure your house is well ventilated and there is minimum humidity.